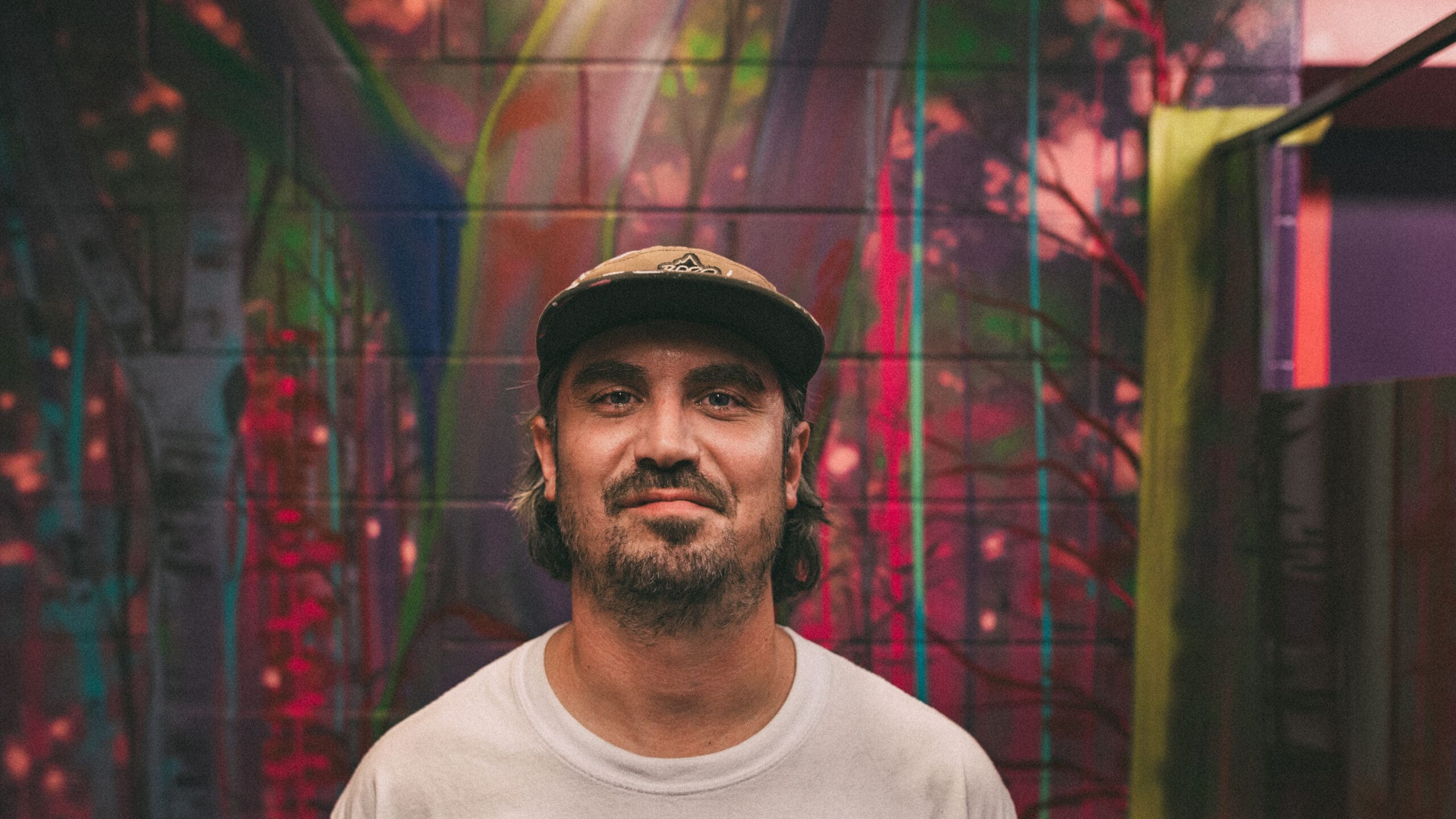 Thursday August 24, 2023
Thursday, Aug 24, 2023
As we go into week 4, let's take a look back at the exciting week 3 for our muralists! With artists in a steady flow bringing life and vibrance to the Beltline and Downtown areas, we are excited to see finished works pop up on the streets! This past week 4 artists have put finishing touches on their latest works.
Winnipeg's Hanna Reimer uses a mixture of electric blues, greens, pinks and oranges to tether her mural to its digital inspirations. The soft translucent effect of the greens overlapping the pinks gives the form some breathing space and makes the piece appear to be flowing like sheer fabric. This mural is inspired by the manipulation of fabric and how the patterns on the surface become warped with the physicality of its wrinkles. By overlaying a similar pattern over top, a moire effect is produced. Check out this mural located at 739 11 AVE SW, and learn more about Hanna Reimer through her artist highlight here.
Anais Lera has completed her mural titled 'Nocturne of other lands'. This piece is a colourful rendition of the duality between science and fiction wrapped into a wonderfully complex and stunning creation. Anais tells us "This piece is inspired by current Nasa's exoplanet research; science fiction comic books ; 60's/70's psychedelic posters filled with vivid contrast colors; traditional contemplative Japanese painting of nature. I draw in symbiosis these various graphical evocations into unique detailed environments." Check out this creation located at Walls alive 1328 17 AVE SW and watch her artist highlight here.
Mr. Malin, a Montreal-based graffiti artist, brings us a mural which highlights the vegetation that takes control of the territories affected by forest fires. The edible black morel is presented in this work as a symbol of renewal. Life always resumes no matter what. Ferns are also present in post-fire areas. Take in this mural located at on the side of 17th Ave's popular late night A&W.
Fleo K6A has turned an unconventional art space into a masterpiece. His creations within this Olympic Plaza washroom have brought life and energy to one of Calgary's most iconic and nostalgic locations. Born and raised in Montreal, rooted on the shore of St-Laurent River, Fléo developed a balanced duality between city and nature. Decorated with aspects of the serene outdoors, this piece is a representation of some of the most meaningful aspects of his life like his family and beloved dog. You can find this mural at 228 8 AVE SW (Olympic plaza) inside the bathrooms.
UP NEXT:
Our next round of Canadian artists hit the ground running. Dinho, Yasaman and Seeroro have landed and are starting on some amazing and unique pieces sure to stop you in your tracks alongside Montreal-based Milkbox who will be creating a special project in collaboration with the CMLC and Cirque Du Soleil. Read more on this special collaboration here.
Our highly anticipated international artist, Bogota Colombia's Wosnan will be joining us soon to deliver an extra special project and we cannot wait to see it come to life. Wosnan is known for his disruptive and out of this world creations and we are thrilled to bring some of that disruption to the Beltline through his bio-beings.
This Saturday, we have finally landed at our major BUMP Alley Party featuring headlining artist BABII joining us all the way from Toronto! BAMBII is one of Canada's most thought provoking, ambitious and exciting artists. She has been gracing stages and festivals around the world, led Boiler Room multiple times and repeatedly shut down Toronto with her seminal dancehall rave series 'JERK', As our team at BUMP Festival are lovers of music, art, & believe in the power of the rising underground, we are excited to host this shining star's debut in our city.
Supporting BAMBII will be a selection of cutting edge DJs from Alberta, showcasing various crews and genres: @hoodjoplin @metafloor and @buccaltheft.Our outdoor Alley Party will be a rave in one of Calgary's most painted alleyways – featuring wall to wall murals in the alleyway between 1st Street SW C-Train station and Stephen Avenue. We are aiming to experiment by flipping underutilized urban spaces. This party is intended to create a dance-floor outside, sitting amongst past BUMP murals that form the portals within which the rave will live.
FREE ENTRY
Date: SATURDAY AUG 26TH, 2023
Address: The alley behind Palomino! Centre St S & 1st St SW Alley (entrance through 1st SW)
Time: 4PM-Late
Headliner: BAMBII
With Support From: Buccaltheft, Metafloor, Hood Joplin
Beer Garden: Courtesy of Establishment
Food Trucks: TBD
All photos and videos are captured by BLKWTR Creative, Vince Raquel, Asim, Tyrell Bonnick &, Jevan Bailey