2023 Cirque Du Soleil mural to be programmed by BUMP Festival!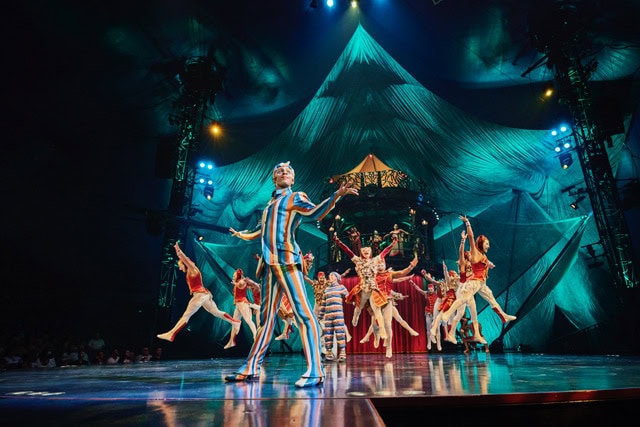 Tuesday August 22, 2023
Our 2023 Festival is in full swing and in entering our final stretch we are excited to announce a collaboration with Cirque du Soleil and Calgary Municipal Land Corporation (CMLC) to create a special installation inspired by KOOZA, a Cirque du Soleil production, in the heart of Calgary's emerging Culture + Entertainment District. The mural project will go up on the east-facing wall of the Vetro & Sasso Condominium buildings on 15th Avenue.
KOOZA is one of the most successful Cirque du Soleil productions of all time. Since 2007, the show has mesmerized more than 8 million spectators in 22 countries around the world. In 2023, this show is a homecoming, as KOOZA will be the first production to bring the iconic Cirque du Soleil Big Top back to Calgary since 2019. To celebrate this return and leave behind a bit of KOOZA magic in Calgary, BUMP Festival & CMLC joined in the creation of what we hope will become a landmark mural in the city.
Making her Calgary debut, Kayla Buium (who creates art under the moniker 'Milkbox') is a muralist and illustrator based in Montreal. In the summer of 2023, she was selected by BUMP Festival, CMLC, and Cirque du Soleil to collaborate on a KOOZA-inspired mural and join the 2023 BUMP Festival as one of their headlining visual artists.
"I am excited to bring Calgary this whimsical and surrealist mural inspired by my visit to Cirque du Soleil's show KOOZA. As a former gymnast and current park roller skater, I've always loved acrobatics and performance, so getting to peel back the curtain of a circus show and see the performers and costumes up close and personal was beyond inspiring. KOOZA tells a story that transcends what is possible, and with that I wanted to take the magic of the show and find my own story within it. I love art that is weird and puts images and ideas into a new context to create new meaning. With this piece, I am bringing hope and wonder into the streets of Calgary, and I can't wait for you all to see it!" says Kayla Buium.
Her mural, titled 'Pandora's Snail', will be revealed in September, 2023.
While the KOOZA mural marks the first Cirque du Soleil collaboration for both BUMP Festival & CMLC, it will be the sixth public art project that BUMP and CMLC have partnered on. Prior projects include 'Travelling Family' & 'Strength and Fragility' in The Culture + Entertainment District & 'Honoring Life Givers North to South' in the East Village neighbourhood of Calgary.
"Bringing this beautiful new mural to life in The Culture + Entertainment District in partnership with BUMP Festival and Cirque du Soleil is an incredible opportunity to add to the culture and creativity that defines The C+E," said Clare LePan, CMLC's Vice President of Communications and Strategic Partnerships. "CMLC is proud of our long-standing partnership with BUMP Festival and we are eager to see this wall transformed into a new landmark for The District."
To learn more about KOOZA by Cirque du Soleil, which will be in Calgary from August 25 to October 8 at Stampede Park, you can visit cirquedusoleil.com/kooza