10 Aug

The 2021 BUMP Festival: Week #2 Update

Welcome back! That's a wrap on week one of the 2021 BUMP Festival, and what a way to start 🥳
We had a great time at our first Artist Talk with BUMP Road Works artists Mike Hooves, Sydonne Warren, J. Broz and Billie Rae Busby

We had live DJs soundtracking Elicser Elliott and Nathan Meguinis' painting efforts at our first BUMP UPs on Friday

On Saturday, we took in a half-dozen of Calgary and beyond's finest graff writers doing what they do best at our annual Graffiti Jam, featuring five local DJs serving up some tasteful selections

Finally, a little Music in the Park was an excellent way to wrap up our first week. Thanks to Metafloor and Ms. Clarity for supplying the tunes!
Week 2 Murals: On Deck
Elicser Elliott and CONZ have put the finishing touches on their murals, and we're getting ready to kick off another round of walls. So far, we have
slated to start this week – but there's a chance another artist or two will be starting with them. Check the Mural Map on our Festival Page for the latest on each mural's status 👀 🕵️
Music + More This Week:
With new walls comes new free events! Here's what we have queued up:
Elicser Elliott working on his second of three walls at Centre15 (1509 Centre St S)
Elicser Elliott and CONZ both wrapped up their walls in record time, and Nathan Meguinis isn't far behind. Our second Mural Tour of the year focuses on our three newest additions to the BUMP roster, anchored by some of our favorites from the past few years. Take a stroll along 17th Ave and discover some murals-in-progress!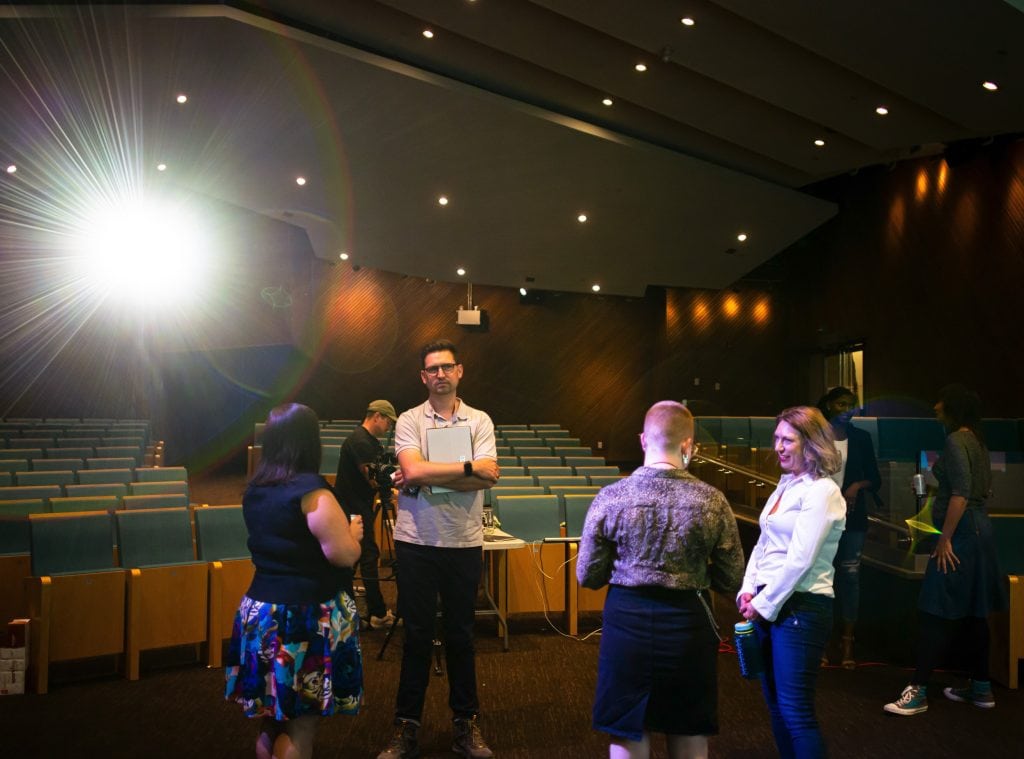 Great energy at our first Artist Talk, livestreamed from Contemporary Calgary last Wednesday.
Artist Talk #2 w/ Tiffany Lynn Cuffley, CONZ + Kerzeka – Tuesday, 6:30-7:30p
We're back livestreaming from Contemporary Calgary for our second Artist Talk! This time, we're chatting with an upcoming addition to Calgary's downtown walls, a dynamic local duo, and a Calgarian legend who's just wrapped up his wall in Greenview. Tune in and discover the wildly-different styles of Tiffany Lynn Cuffley, Kerzeka, and CONZ 
Artist Talk #3 w/ Nathan Meguinis, Borrris and Harneet Kaur Chahal – Wednesday, 6:30-7:30pm
For the second night in a row, we're streaming an Artist Talk live from Contemporary Calgary. Join us in conversation with the wildly talented and thoughtful Nathan Meguinis; Bridgeland beautifier Boris Biberdžić; and a member of one of our most hotly-anticipated artist groups, Harneet Kaur Chahal!
nu_bounce and Jayzen tag-teaming some afternoon hangs at the Graffiti Jam.
BUMP UP! w/ Molly Fi and Mother Mary @ Flyover Park (Borrris) – Friday, 5:30-8:30pm
We've got a very special BUMP UP queued up for this Friday, in partnership with the Bridgeland-riverside Community Association! Borrris (link) will be creating a very special piece around the Bridgeland Flyover, a stone's throw from the Reconciliation Bridge. We've got music from Molly Fi and Mother Mary soundtracking his work – join us for a look at this superbly unique project and stick around for a dance! 👯
Ms. Clarity curated a great selection of tracks for our first Music in the Park pop-up on Sunday.
Music in the Park + Farmer's Market @ Central Memorial Park w/ Myke Atkinson and Benanas – Saturday, 10am to 1pm
CJSW waveshaper Myke Atkinson and potassium-based turntablist Benanas are bringing their sounds to a late-morning edition of Music in the Park. YYC Growers will be present running their pop-up farmer's market at the same time. Guaranteed to be the grooviest grocery run you've ever done 🍎🥑🥕
BUMP UP! w/ Pallares and LUUM @ Kerzeka/John F. Ross Wall – Saturday, 2-5pm
There's an abundance of art happening on the West End of 17th. Kerzeka and John F. Ross start painting their respective walls this week! Kerzeka are painting the Alpha House Veteran's Building, and John is redecorating the northern facade of Shawarma Knight. The back streets these two walls share will be filled with the sounds of multigenre mastermind Pallares and elusive sonic chameleon LUUM. Nothing like a lil' alley party to spice up your weekend!
Just a peek at what our Graffiti Jam artists got up to over the weekend.
Music in the Park @ Central Memorial Park w/ Citysleep, Sergeant & Comrade and Bennett Mitchell – Sunday, 2-5pm
What better way to wrap up a music-filled weekend than with some bands? We're thrilled to be bringing the sounds of Citysleep, Sergeant & Comrade, and Bennett Mitchell to Central Memorial Park! Guaranteed good times in one of Calgary's most scenic spots – see you there 🎸
Stay In The Loop:
Follow us on social media (@YYCBUMP), check out our full festival schedule, and take a look at our updated 2021 Mural Map! This is one of our most packed weeks yet, and we're excited for you to discover what we have in store. See you there 🎉
– The BUMP Team