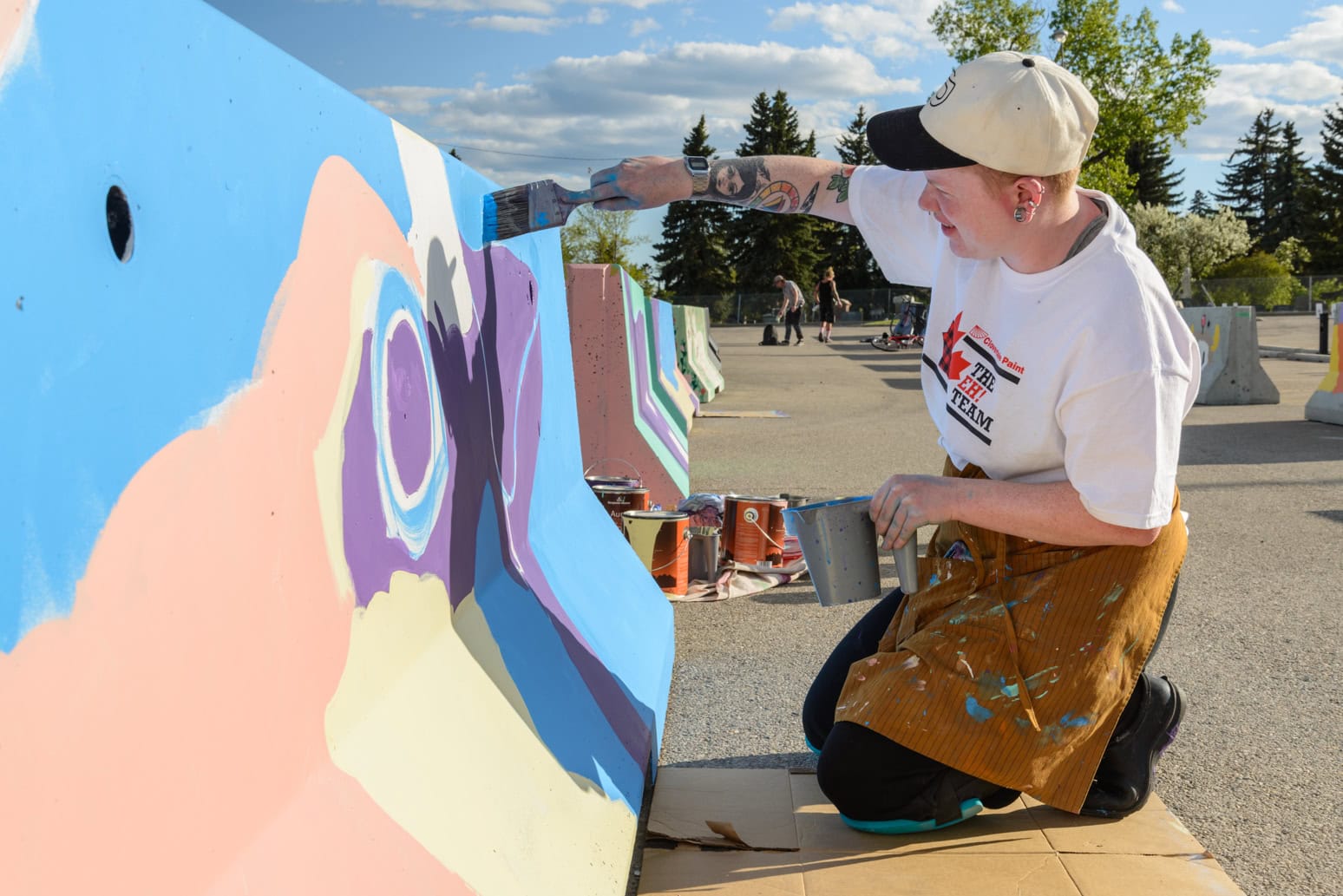 11 Jun

Discover our full BUMP Road Works artist lineup + their custom jersey barriers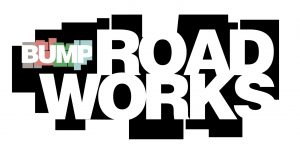 We've launched our new BUMP Road Works Series in partnership with the City of Calgary Parks and City of Calgary Roads Departments to bring the works of local artists to Calgary streets. A total of nine artists have painted thirty concrete jersey barriers that will be used to provide additional public space on streets, enhance safety for on-street patios in support of local businesses and help transform main streets in Calgary into an open-air art gallery.
"There's more to murals than just walls. The Road Works series brings local artists to new surfaces on Calgary streets in support of local businesses and community," said Julia Schreiber, Murals Director for BUMP.
"The Beltline Urban Murals Project has added colour and vibrancy to the neighbourhood for several years now. I'm thrilled that BUMP was able to collaborate with various City of Calgary departments on the Road Works Series to provide opportunities to artists, who have been some of the hardest-hit during the pandemic. The painted barriers will provide a unique blend of safety and excitement to the patios in our most concentrated commercial areas."
You've met our BUMP Road Works parklet artists already – now, meet the rest of the crew!
Meet the BUMP Road Works artists behind the barriers:
Abigail Osness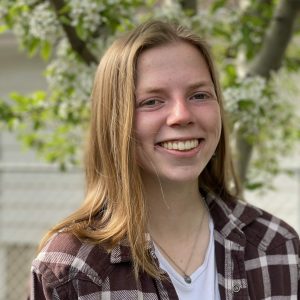 Abi will graduate this spring from John G Diefenbaker High School. In September she plans to attend the Alberta University of the Arts. Abi's artwork is influenced by nature and is often presented through the use of limited colour palettes.
She is inspired by the uniqueness of individuals and likes to capture what makes people different in her work. Although this is her first mural for the BUMP organization her appreciation for working on larger scale projects started during the eleventh grade. She completed 3 large-scale murals for various projects including a 50 year commemorative mural for Diefenbaker High School.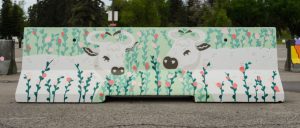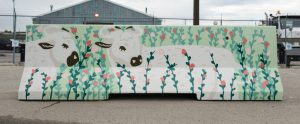 You can view Abi's beautified barrier at Deville Coffee in Kensington.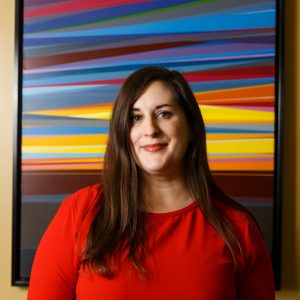 Billie Rae Busby is a contemporary visual artist who creates abstract paintings of the Canadian landscape. She uses a precise hard-edge technique and colour theory to reinvent her surroundings. Her paintings evoke wonder and possibility by depicting mood, memory, movement, and time.
Based in Calgary, Alberta, Canada, she is inspired by both the complexity of urban architecture and the vast rural landscape. She strives to interpret ordinary places in a fresh, new context.
Her abstract landscape paintings have been exhibited in various galleries and exhibitions in Western Canada and have been acquired by several collections including the Alberta Foundation for the Arts and Canada House (the Canadian High Commission) in London, England.
The jersey barriers are her first painted murals with the Beltline Urban Mural Project.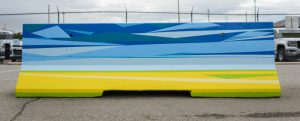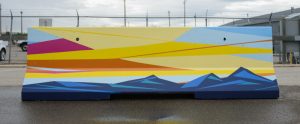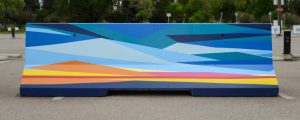 Billie Rae's work is viewable at five Calgary staples:
Saltlik in Downtown
Kane's Harley Diner in Inglewood
Los Chilitos, Lounge 18, and Café Med, all on 17th Ave
Brieanne Mikuska and Lola Saik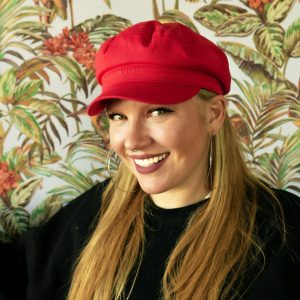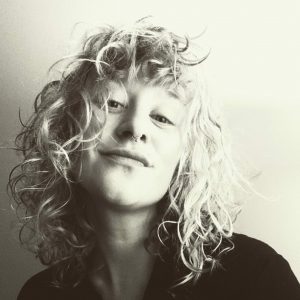 Brieanne Mikuska is a Calgary-based tattooist and artist who focuses on painting, drawing, illustration, and animation. She has a degree from the faculty of Design at AU Arts, with a major in illustration and a minor in animation. Brieanne's artwork is mainly focused on human emotions as they impact the human experience; mysticism as it relates to consciousness; and the study of sign processes (semiotics). By finding a purpose through play, humour, and symbolism, Mikuska aims to make meaningful connections with her audience. She depicts a dreamlike spirituality with recurring characters throughout her work. Brieanne's style has been described as lowbrow, pop surrealist, and reminiscent of 1960's style comic strips and acid trips. Her use of bright colours draws people by allowing them to weave a narrative with their own personal connections to the colour and symbolism. Mikuska's artistic mediums are inclusive of acrylic paints, gouache, pencil crayons, and tattoo ink. She also incorporates techniques from airbrush work and tattooing into her work.
Lola Saik is a freelance artist who graduated with a Bachelor of Fine Arts in Sculpture from the Alberta University of Arts (AU) in 2014. Her work utilizes highly detailed and immersive patterns, as well as repetition of various geometric shapes. Saik is influenced by artists such as Yayoi Kusama, Sol LeWitt, and Bridget Riley. Her artistry is founded by intuitive symbology that is distilled into an abstract world. An abstract world that is immersive to the viewer, and reminiscent of the playful and curious nature of the creator herself. Lola's artwork transcends many mediums and includes performance, installation, painting, drawing, fashion design, and tattooing. Saik opened Dark Corners Tattoo studio in 2019 located in Inglewood at The New Blank. She works there with her creative partner Brieanne Mikuska.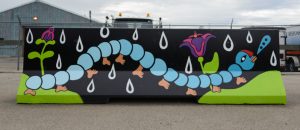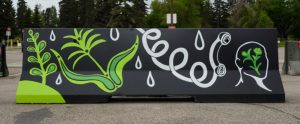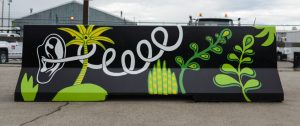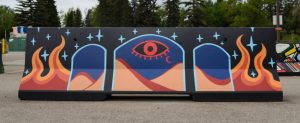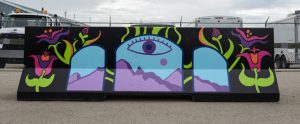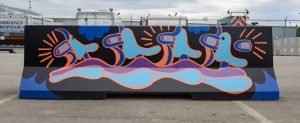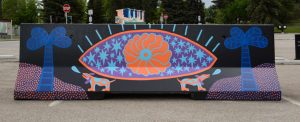 You can view the fruits of this dynamic duo's labors at
National on 10th
Cannibale in Bridgeland
Without Papers in Inglewood
and Una and Blanco, both on 17th Ave
Helen Young
Helen Young is a multidisciplinary artist residing in Moh'kíns'tsis (Calgary, Alberta). In her current practice, Helen uses sculpture, drawing, painting, and sound composition to explore ideas of self and the world around her. Helen has participated in collaborative projects over the years within performance and visual art, and presently incorporates animation into her personal work. Helen works as the Music Director at CJSW, and has programmed a weekly radio show for 7 years.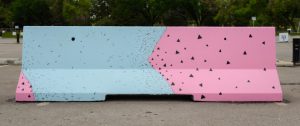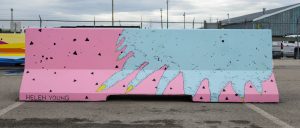 Check out Helen's work at Briggs in the Beltline, and Philosafy Coffee on 17th Ave.
Josh Creighton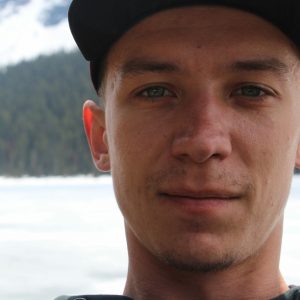 Focusing on geometric designs composed of hard-edge shapes and dynamic color palettes, Josh's work aims to lead the viewer to a new perspective of looking at their surroundings and how those surroundings affect them. Josh breaks down realistic elements into geometric forms, creating a surreal feeling of realism mixed with abstraction. He is Influenced by technology, music, visionary art, graffuturism, and nature. The mediums used for murals are aerosol spray paint and latex paint. Outside of muralism, Josh works with mixed-media painting (acrylic, airbrush, aerosol), woodworking, and digital art.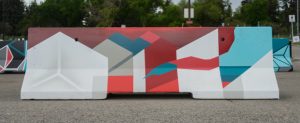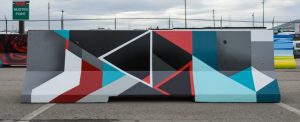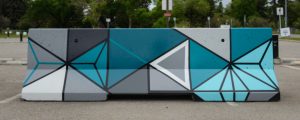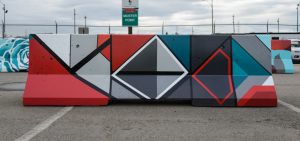 Josh's work will be viewable at the following locations this summer:
The Beltliner Diner (in the Beltline, of course!)
Earl's Tin Palace in Mission
and Watchman's Pub as well as V Burger / Buon Giorno, both on 17th Ave
Mike Hooves
Mike Hooves is a prairie artist working in illustration, animation, and film in Calgary, Alberta. Mike uses shape language, saturated colour, and gestural linework to create playful and engaging imagery that acknowledges queer aesthetics and signifiers.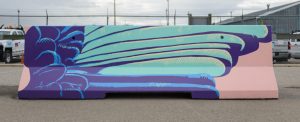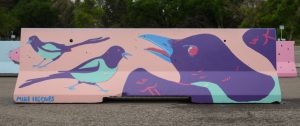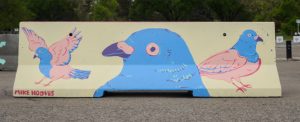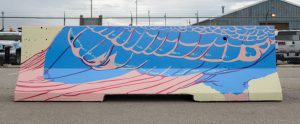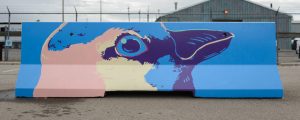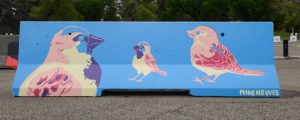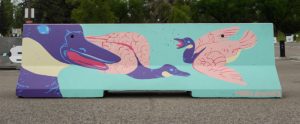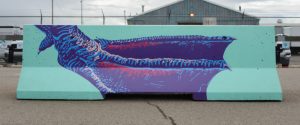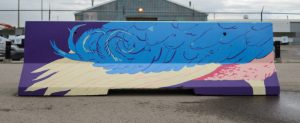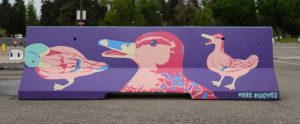 Hooves' feathery flock is roosting at the following locations:
Hayden Block BBQ in Kensington
Swans / the Dirty Duck in Inglewood
Roy's Kitchen in Mission
and the Coup and Pigeonhole, both on 17th Ave
Ryan Fairweather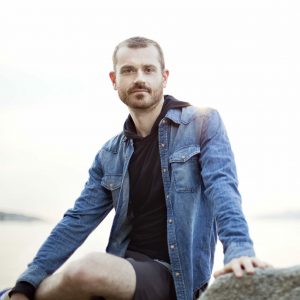 Ryan M. Thunder Fairweather is a Calgary-based artist going by the tag Strawberry Milk, a name that personifies his supercute approach to character design. Primarily a hot glass artist who co-founded the award-winning studio, Bee Kingdom, in 2005, Fairweather has brought his colourful characters to life using blown glass, digital illustration, inflatable fabric, and now, for the first time ever, paint! He's been published in design books and magazines, and he's exhibited in galleries and museums in cities including Athens, new York, Monterrey, Cheong-ju, Winnipeg, the Glenbow Museum in Calgary, the Pergamon Museum in Berlin, and was a featured artist at the 2012 Pictoplasma Character Festival in Berlin. You can follow Strawberry Milk on Instagram @strawberrymilkland.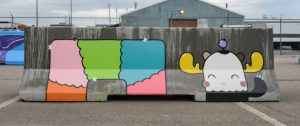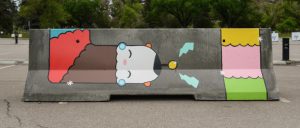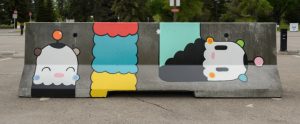 Grab yourself a tall glass of Strawberry Milk at these Calgary staples:
Greta Bar in the Beltline
Rio Bar and Grill downtown
The Eden / Brewcade in Inglewood
Vin Room in Mission
Lulu Bar on 17th Ave
Stephen Ferris
Stephen Ferris is a Calgary based artist. He is completely self-taught and did not begin his creative journey until the age of 27. His work shares with the viewer a peek into his imaginative, other-worldly perspectives and allows them to dive into his inter-dimensional thought, soul, and spirit. His style is highly complex in design and detail and is completely improvised, allowing for the psychological, free-flowing of ideas, as the painting organically evolves and builds on itself. His artistic process plays with discordant, figure-ground relationships and stripped-down rhythmic abstractions of raw, geometric shapes, patterns and forms. His artwork is non-objective and highlights the many components that make up the infernal-machine of his psyche. This can be engaged and viewed endlessly on a micro and macro level; up close, the viewer can get lost in minute details and intricate patterns. From far away, the viewer will see how all of the chaos comes together to create a macrocosm. The artist prefers that the viewer form their own visual experience and conclusions without the bias of what it means to him, personally. This allows each piece to be felt and experienced based on the viewer's own, personal, imaginative process allowing for "pareidolia" to play out, creating endless interpretations and emotional responses. He has exhibited extensively in Alberta and US, with his most recent showings at MIRUS-Gallery/US and a solo exhibition at Harcourt House/ Edmonton.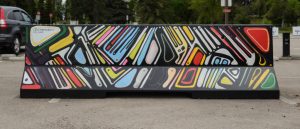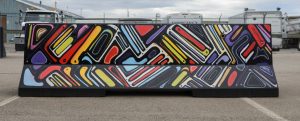 View Ferris' work at Bar Von Der Fels in the Beltline, and Chakalaka on 17th Ave.
Functional art, coming this summer to a patio near you
We're thrilled to have these talented artists on board for this new and exciting project. Keep your eyes peeled on our channels, or sign up for our newsletter for more information on this ongoing project. Happy hunting!
All photos courtesy of Chelsea Yang-Smith.