WEEK 4 : More Murals More Magic!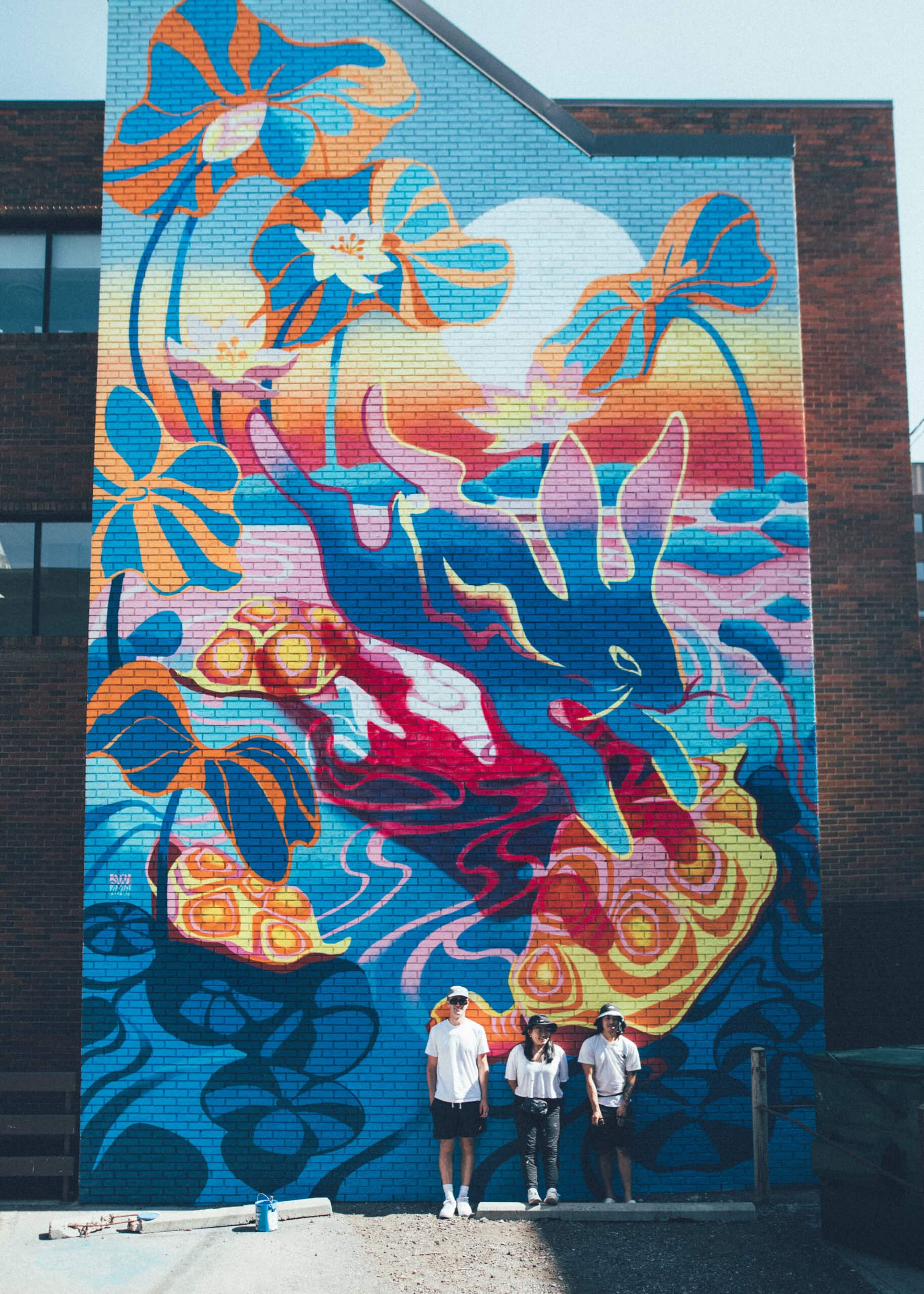 Thursday September 7, 2023
We've been cruising into week 4 with some more of our larger murals nearing completion, with this week being the final week for both Milkbox and Wosnan on their Beltline walls. Over the past few days we've had 3 beautiful walls fully wrapped, keep scrolling to take a look!
Bringing to Calgary the lunar calendar's water rabbit, Vancouver's Carolyn Wong aka Seeroro brings to the Beltline a triptych mural, bursting with folklore, euphoric wildlife and psychedelic colours. Sitting at 625 11 Ave SW, Carolyn says "Rather than focusing on who wins the race, the artwork hopes to spark a sense of joy and stillness in the present moment. There is plenty of beauty to appreciate all around us and all it takes is a moment to stop and admire the lilies". Take a look at her Artist Highlight video here!
A block away we have another triptych that also plays with nature and beast, but comes from a completely different artistic style and palette. Brazilian born, Ottawa based Dinho Bento's SYMBIOSIS brings together the Gray Fox, Grizzly Bear and Eastern Cougar, in an ode to the importance of stewarding our natural world and its inhabitants. The artist asks our city to consider the times we are in, using his mural to start a conversation around climate change, the urgent need for human action and the undeniable connection humans and animals share on earth. Using a special brush throughout his process, Dinho's magnificent beasts look almost as if they were carved from wood. At a glance one would think this mural lives within a massive tree trunk, with powerful animal faces emerging to ask its viewers to not forget their existence, to deeply consider our planet. You can find this wall at the end of a popular BUMP mural alley, on the South wall of Kipling Square at 601 10th Ave SW. Take a look at his Artist Highlight Video here!
Taking inspiration from Alberta's natural habitat, Toronto's Yasaman paints the trees, water, sky and animals swirling together in our beautiful ecosystem. Vivid bursts of color and messengers of peace and luck are often found in her work – and we see one of them on her Calgary mural too! Located at 1202-1210 17 AVE SW, this wall is now complete as well!
To close off our late August programming artists Milkbox, Seeroro and Yasaman shared a lovely evening with us at Contemporary Calgary, giving us insight into their world, their perspectives on public art and the great many things that influence their art. While our Artist Talks have come to a close for the official BUMP Festival, some exciting new plans are in motion about mural tours, artist workshops and knowledge sharing initiatives from our team for the fall & winter. Stay tuned for more from us!