Now Presenting: PANDORA'S SNAIL!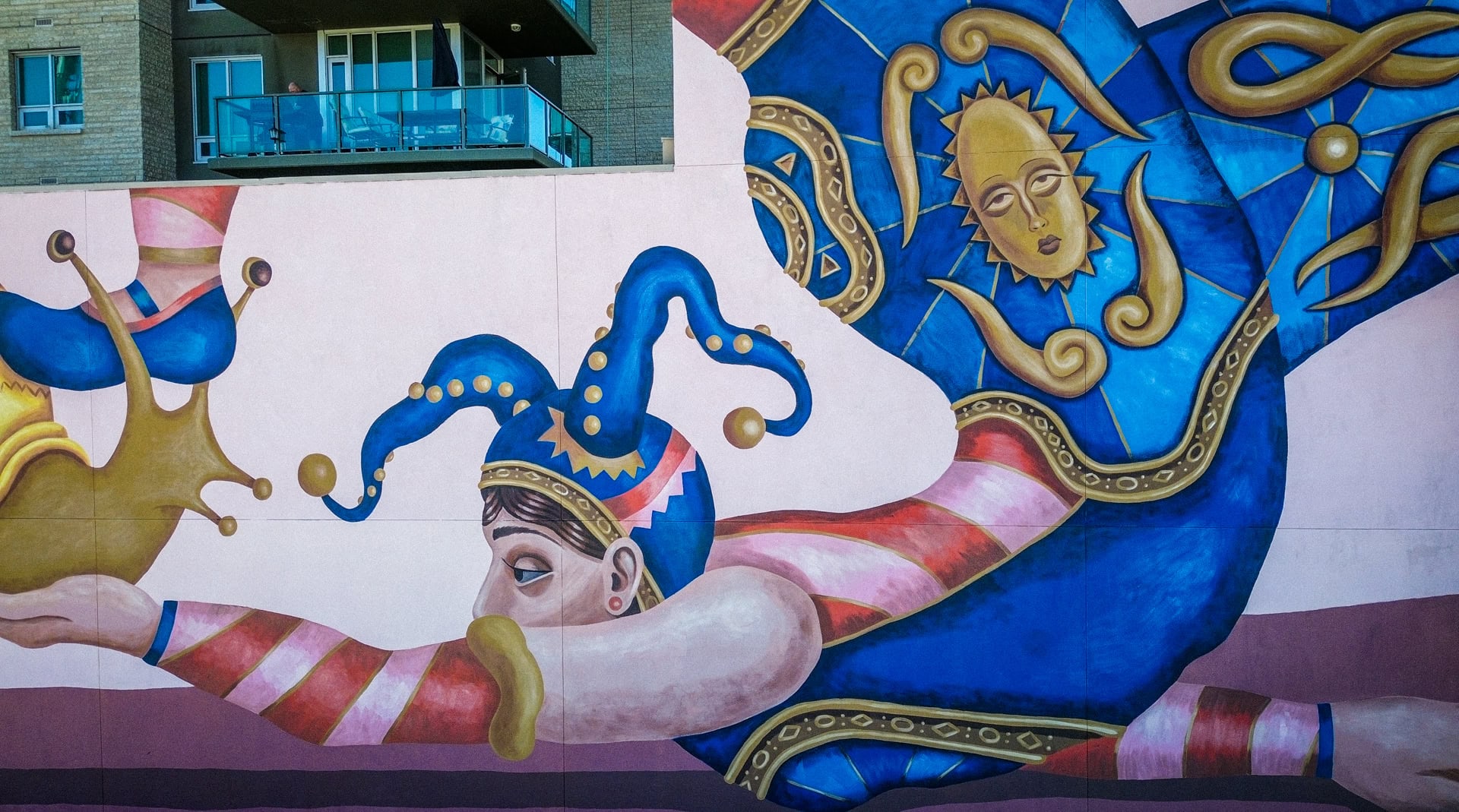 Wednesday September 13, 2023
Sitting on the East wall of 210 15 Ave SE, Pandora's Snail by Kayla Buium aka MILKBOX is a magnificent ode to the circus artform, the magic of storytelling and Cirque Du Soleil's celebrated production KOOZA. This 2023 BUMP Festival mural was brought to life in the Culture & Entertainment District thanks to a collaboration with Cirque du Soleil and CMLC.  We're happy to announce that this massive installation in The Culture + Entertainment District of Calgary is now ready for public viewing. 
A mural that took 14 days to paint, Pandora's Snail looks like a page from a timeless storybook you could get lost in. Rich blues and pink adorn the cerebral clowns on Kayla's canvas, between whom sits an ancient snail. What secret's loom inside this snail? What stories do these characters bring to the Beltline? Inspired by the Cirque du soleil show KOOZA, Kayla says "The mural is about two curious but mischievous clowns about to open Pandora's snail to release chaos onto the world. The snail is a slow moving creature making it easy to catch and open with the key. The mural uses costumes and motifs from KOOZA to tell a brand new story created by MILKBOX."
Kayla was selected by BUMP, Cirque & CMLC earlier this year as the artist who would be able to reflect on the imagination and artistry of a production like KOOZA while bringing her own perspective, influence and ideas to the project – we couldn't be more thrilled with how this project evolved and how dedicated Kayla was to it throughout. 
Kayla Buium who goes by the artist name 'MILKBOX' is an illustrator, muralist and roller-skater who creates surreal narratives exploring themes of femmehood, identity, sexuality, mental health and self love. She often features animals and elements of nature to tell visual stories. She loves to collaborate with brands and communities to bring big ideas to life. Whether it's skating or making art, the driving force behind Milkbox's work is to bring people together, spread knowledge, and uplift important community members.
You can find her mural on the East wall of 210 15 Ave SE & read about the full project here.
Photos by Jevan Bailey & Asim Overstands.