2024 : BUMP Festival Call for Jury Members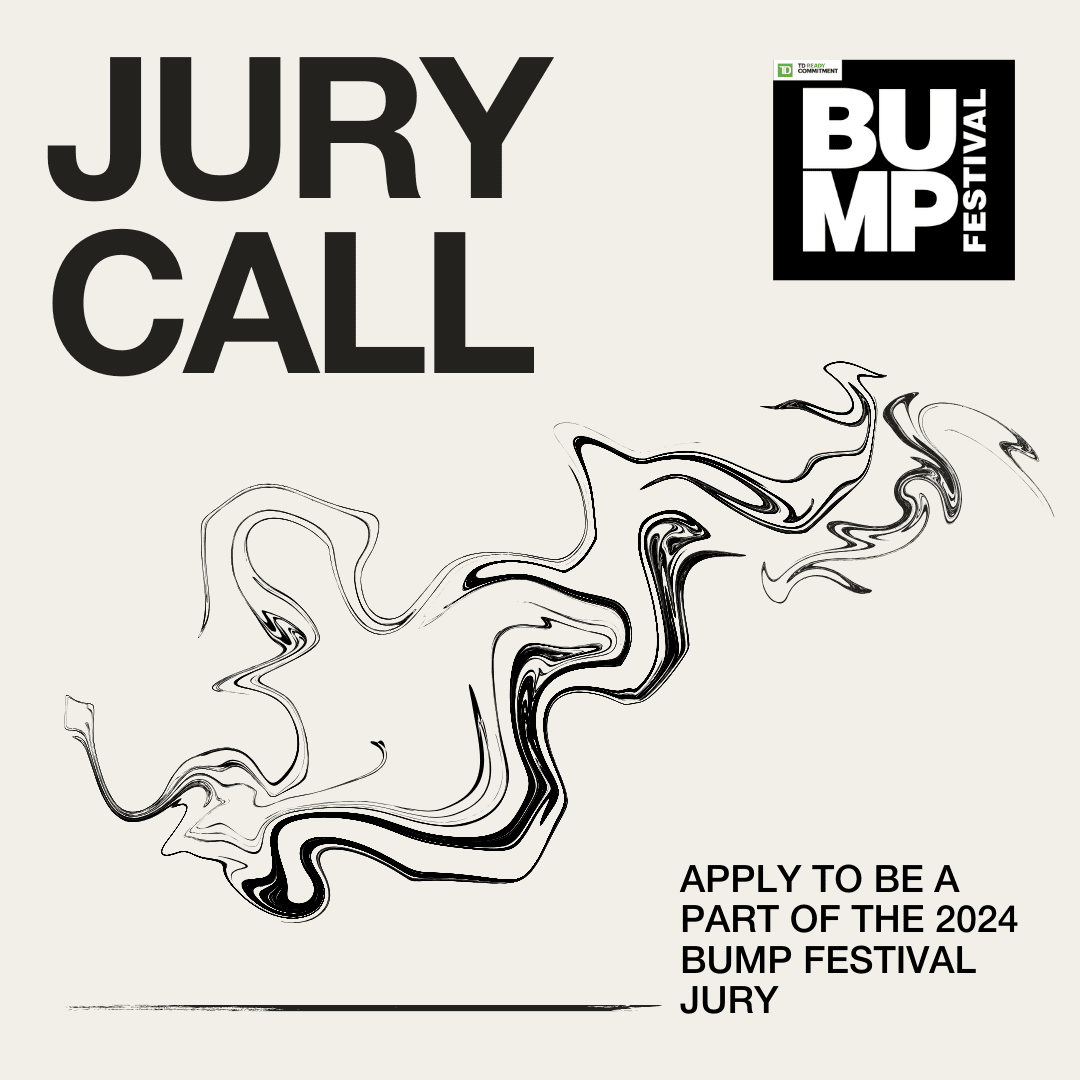 Tuesday November 14, 2023
BUMP Festival is seeking individuals to serve on the jury for our 2024 BUMP Festival adjudication. The BUMP Festival's annual call for artists draws hundreds of submissions. The  jury will be composed of a diverse cross-section of local artists, members of various Alberta arts entities, and community-focused thinkers who have a history of working to foster robust and diverse art spaces in Calgary. The jury will review applications to develop an artist shortlist for the Festival. The process spans several meetings in the late winter and includes a jury scoring system and voting process.
In 2024, we will continue our current process of selecting festival artists and seek a jury of passionate, fair and experienced individuals interested in the arts and building community. BUMP festival is committed to its mission, vision and values and programs a diversity of artists, styles, origins and experiences. As a part of the 2024 BUMP jury, you will play a crucial role in next year's festival by programming the public art that will eventually be seen on walls all around Calgary.
Jury members must:
Jury members must be a resident of Mohkinstsis (Calgary) or surrounding areas

Have access to a computer and internet to review submissions independently

Attend our mandatory in-person jury kick-off held in early February 2024

In addition to reviewing submissions independently, jury members must attend 10 hours of remote meetings in February-March for the adjudication process
As a jury member, you will be tasked with selecting a diversity of artists based on the following:
style/media (artworks of all schools, styles, scales, mediums and tastes should be considered);

origin (local, national, and international talent)

qualifications (established and developing artists, mainly local)

identity (gender, ethnicity, race, ability)
If you are interested in this opportunity, please apply using the following Google Form
Only selected applicants will be contacted in the New Year. Selected jury members will receive a $1,500 honorarium for their participation.
About 
The BUMP Festival is an award-winning project transforming Calgary, Alberta, Canada, into an expansive open-air contemporary art gallery. Starting as the Beltline Urban Murals Project in 2017, the community-led initiative has expanded to become a Calgary-wide, annual street art festival, creating accessible public art, growing the capacity of Calgary's visual arts community, fostering community connection, and amplifying a diversity of voices through the arts. 
Public art is essential in building community, promoting dialogue and enriching our cultural landscape. Since its inception in 2017, BUMP has:
Commissioned 270

+ public art installations

celebrating a diversity of local, national and international artists

Awarded the 2019 Mayor's Urban Design Award for Community Initiative

Programmed the tallest mural in the world right here in Calgary

Gathered thousands of attendees at the annual BUMP Festival

Led guided mural tours for thousands of residents and visitors to the city

Showcased outdoor film and live music performances as part of a celebration of community and the visual arts.
Mission
To create accessible public art that uplifts communities across Calgary.
Vision
To transform Calgary into an expansive, open-air contemporary visual art gallery that drives a thriving local arts community.
Values
Accessibility:

We create art that is experienced by all.

Diversity and inclusion:

We are inclusive of the diversity of Calgary and the traditional lands of the Treaty 7 First Nations.

Community:

We foster community connection through public art.

Artistic pursuit:

We celebrate creative liberty and exploration.

Education:

We facilitate artistic growth and development.

City building:

We seek to reimagine more vibrant public spaces.
You can find details on past years murals & projects throughout our website. If you are interested in this opportunity, please apply using the following Google Form