17 Aug

The 2021 BUMP Festival: Week #3 Update

Welcome back! Another week of the BUMP Festival is in the books. Things are ramping up around here… Let's crunch some numbers, shall we?
We streamed

two (!!) Artist Talks

at Contemporary Calgary with seven of our favorite muralists

Six DJs and three bands brought music to every corner of downtown Calgary, from Bridgeland to the Beltline

We started four new walls with HRZ, Kerzeka, John F. Ross and Emily Beaudoin, plus a fifth multi-pillar concept with Borrris

and we're now gearing up for six new walls to kick off this week! 💥💥
As always, a huge thank you to our artists for their contributions; to our volunteers for keeping things running smoothly; to our musicians for soundtracking the summer; to our partners for their support and efforts; and to every one of you who attended our events – last week was a dream.
Borrris painting the Bridgeland Flyover was a great reason to have a BUMP UP!
Here's what we've got queued up for you this week:
Week 3 Murals: On Deck
Things are heating up! We've got more fresh murals in the pipeline than ever before. Here's who we have laying fresh paint this week:
…and maybe more? We have a few more tricks up our sleeve… 🕵️
Keep your eyes peeled on our feeds for exciting announcements, and don't forget to check the mural map on the Festival website for the latest on each of our 12 artists-to-date 👀
Events This Week:
In conversation with Nathan Meguinis, Harneet Kaur Chahal, and Boris Biberdžić last week 
🎨🗣️ Artist Talk #4 w/ John F. Ross; bb iskwew; and Cassie Suche and Rhys Farrell – Wednesday, 6:30-7:30p / Online
We're back livestreaming from Contemporary Calgary for our fourth Artist Talk! This time, we're chatting with John F. Ross; bb iskwew; and Cassie Suche and Rhys Farrell. It's an exciting and dynamic combination of broad-ranging styles, so don't miss this one 📡
We had a great turnout at Music in the Park on Sunday!
Polaris Music Prize nominees Sargeant and Comrade performing at Music in the Park.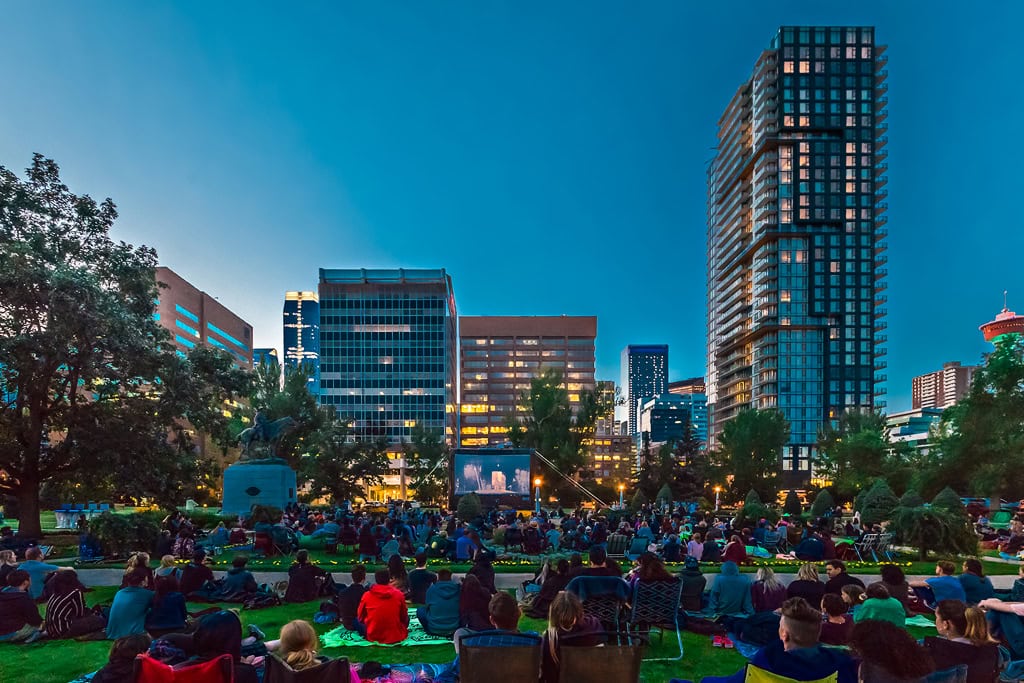 Our Movie in the Park is always popular; don't miss out!
One of our most hotly-anticipated BUMP events is back: we're screening another movie in Central Memorial Park! We're showing the critically-acclaimed Spider-Man: Into the Spider-Verse on the big screen. When was the last time you watched a movie with your toes in the grass? 🦶🌿 
We've got a pre-screening dance party planned featuring Dr. Space, Dr. Dance and the return of DJ BLKFT! Get those limbs nice and limber before settling in for a late-night movie 🕺💃✨ If you only make it out to a few BUMP events this month, make sure this is one of them!
One thing's for sure: this week has something for everyone. There's tons of fresh paint being laid all over Calgary, and we've got plenty of music + more to keep you entertained too ✨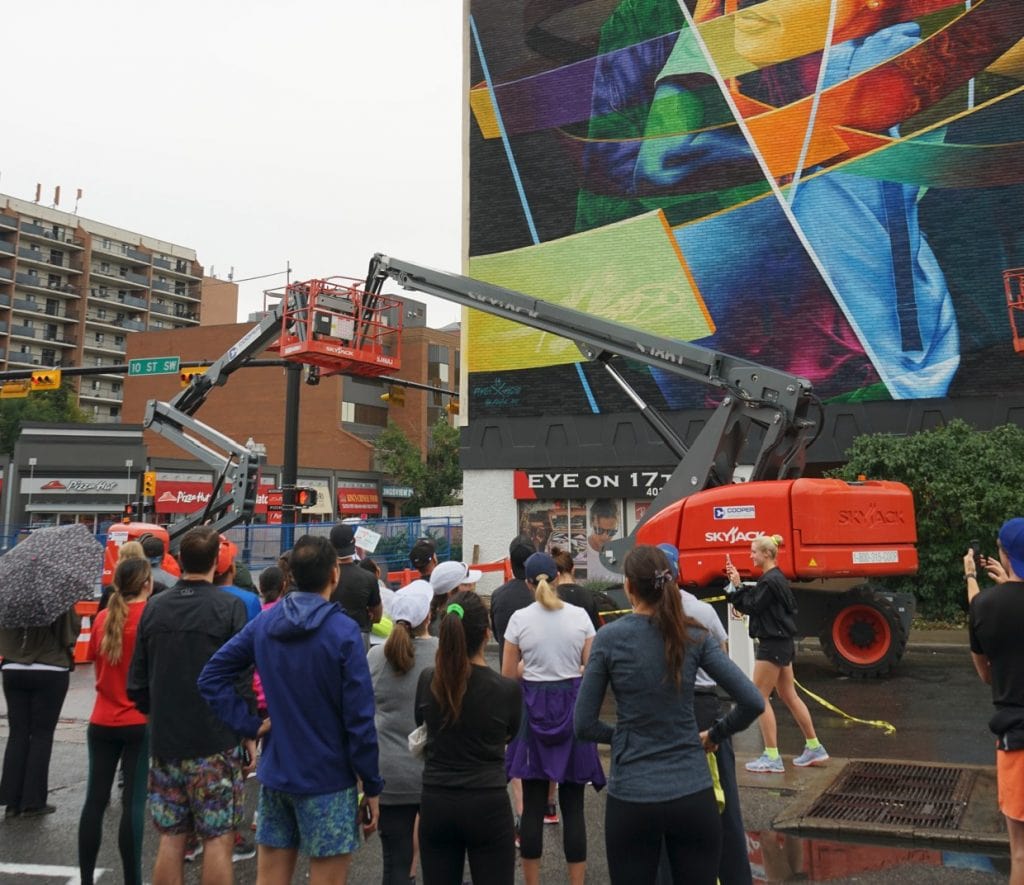 Run the Murals is back for another year!
This special one-off group event is back by popular demand! Join lululemon, YYCRUNCrew and the BUMP team on Thursday August 26th at 6pm as we hit the streets for a 4km guided mural run led by BUMP experts and 4th St run ambassador, Teal Gove. All levels are welcome! We'll be moving through the route as a group with pacers to keep us moving as one.
This is a by-donation event with donations accepted for the Tsuut'ina Hockey Program. The Tsuut'ina Hockey Program provides hockey programming and free skates to youth of all ages at the Seven Chiefs Sportsplex & Jim Starlight Centre.
Find out more + register for free. Space is limited so secure your spot today!
📰 BUMP In The News:
We've just started painting and already, some of our artists have been featured in outlets across all of Canada. Read on to learn more about us and the artists we're featuring this year:
CTV – 50 new murals popping up in Calgary this month as part of 2021 BUMP festival
CBC / Radio Canada – De nouvelles murales aux couleurs autochtones à Calgary (in French)
Calgary Herald – BUMP Festival mural by Punjabi Sikh artists inspired by plight of farmers in India
CBC – Social messages part of BUMP festival murals
Stay In The Loop:
We've got a busy week ahead. Be sure to follow us on social media (@YYCBUMP), check out our full festival schedule, and take a look at our updated 2021 Mural Map! This is one of our most packed weeks yet, and we're excited for you to discover what we have in store. See you there 🎉
– The BUMP Team