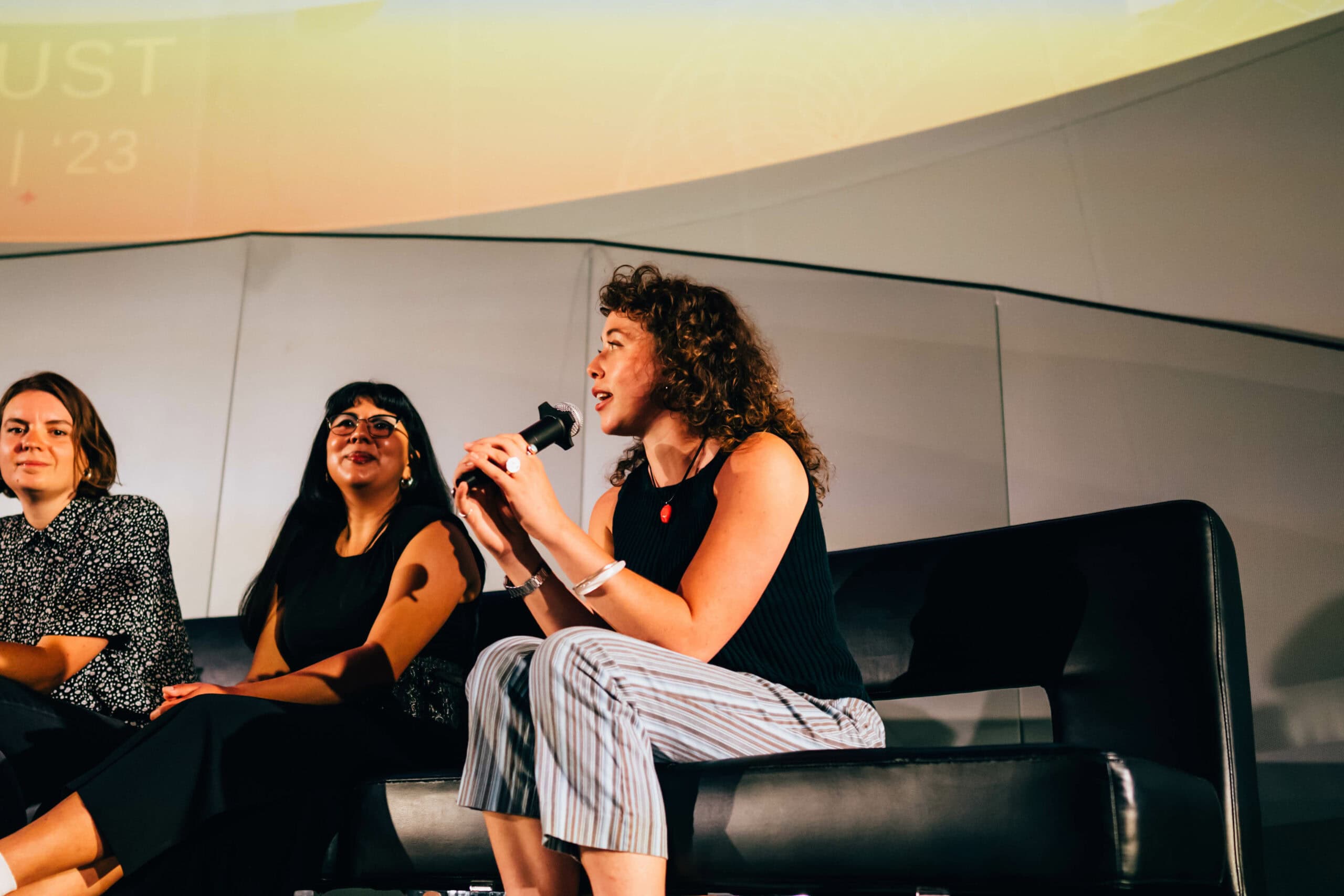 Friday August 18, 2023
And just like that, three of our first 2023 murals are done! Montreal's Diane & MSHL, Edmonton's Emily Chu and Calgary's own La Guita have given the Beltline & Downtown three brand new gorgeous art pieces that are surely going to become iconic landmarks for the next few years.
Diane and MSHL artistic concept stems from a visual conversation between two people. Through mark making, textures, shapes and positive and negative overlap, the duo immerse themselves in a large-scale intuitive abstract language . They also enjoy highlighting the materiality of the wall and or the surface they work with. Go check out this mural on the South wall of 605 15 AVE SW, and watch their Artist Highlight video here!
Josee's 'Ninikan' on the side of Shelf Life Books, is a mural about indigenous reclamation, ancestors and spirit. In bright, beautiful blue, two bodies share a moment of connection through time, space and magic. Find this piece at 1302 4 St SW #100.
Emily Chu's newest addition to the Devonian Gardens is the perfect blend of harmonious and striking. Her use of pastels and shades of blue and purple contrast perfectly with the lush green that surrounds it while providing the same serene and calm energy. You can find this mural at 333 7 AVE SW on the 4th Floor and watch her Artist Highlight video here.
***
Artists Hannah Reimer, Anais Lera, Diane Roe, MSHL and La Guita sat down with moderator Shone Thisle for a beautiful conversation around public art, community and their individual practises at Contemporary Calgary for our first Artist Talk of the summer. Our next one is coming up next week on Aug 23!
Our mural tours have been so fun as well. We started at the 2022 Alex Kwong mural on the Fortis Alberta building and ended the tour at one of our latest 2023 mural sites near Shelf Life Books at our first BUMP UP. These mural tours have been selling out FAST! Your passion for what we do and wanting to learn more about our murals will likely lead to BUMP kicking off more tours in the fall outside of the festival, be sure to keep checking out instagram for more information on that.
Vancouver based Anais Lera, Winnipeg's Hanna Reimer and Montreal's FLEO all began panting last week in some interesting new sites. Their murals are shaping up to be very unique pieces in the Calgary space, we can't wait to show you what it looks like when they are done!